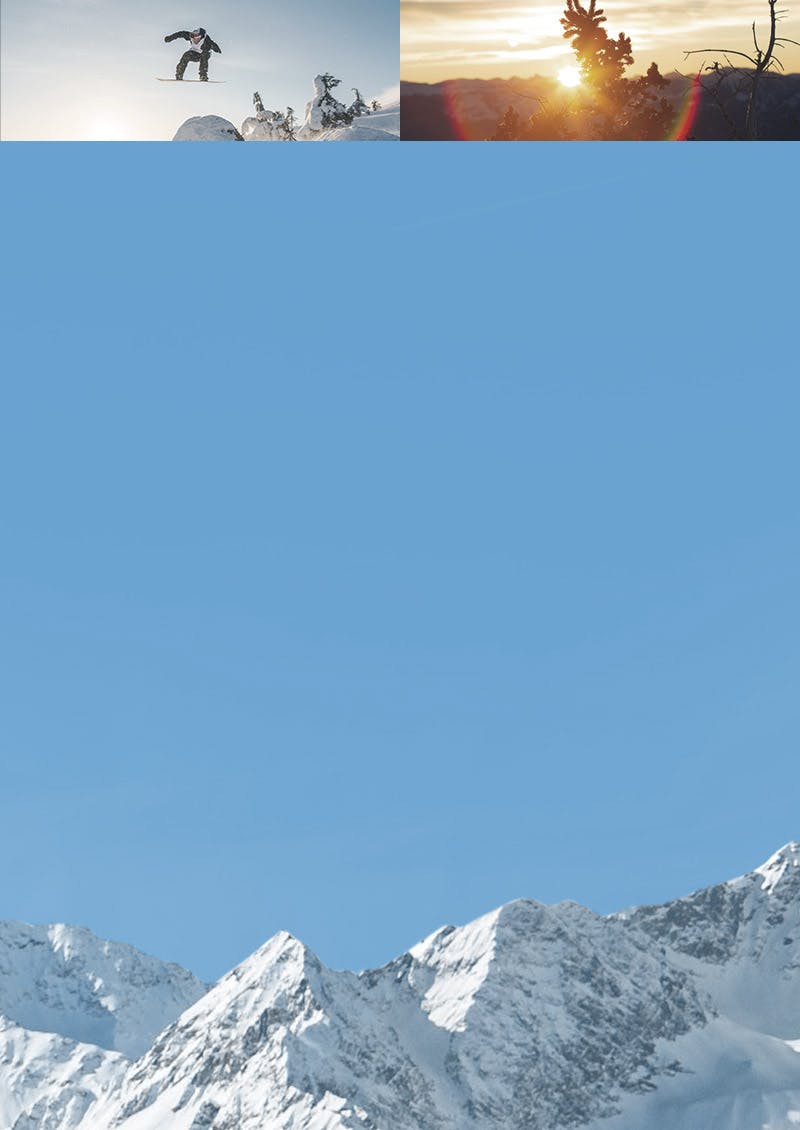 Our heritage.
Their future.
Skullcandy was born on a chairlift in the mountains of Park City, Utah. Our culture is built on a passion for logging vertical feet, laying down fresh tracks and making a personal connection with the outdoors. With every passing season, we've witnessed the dramatic impact climate change is having on the mountains we call home. They need us, and now's the time to fight like hell for their future. Join us.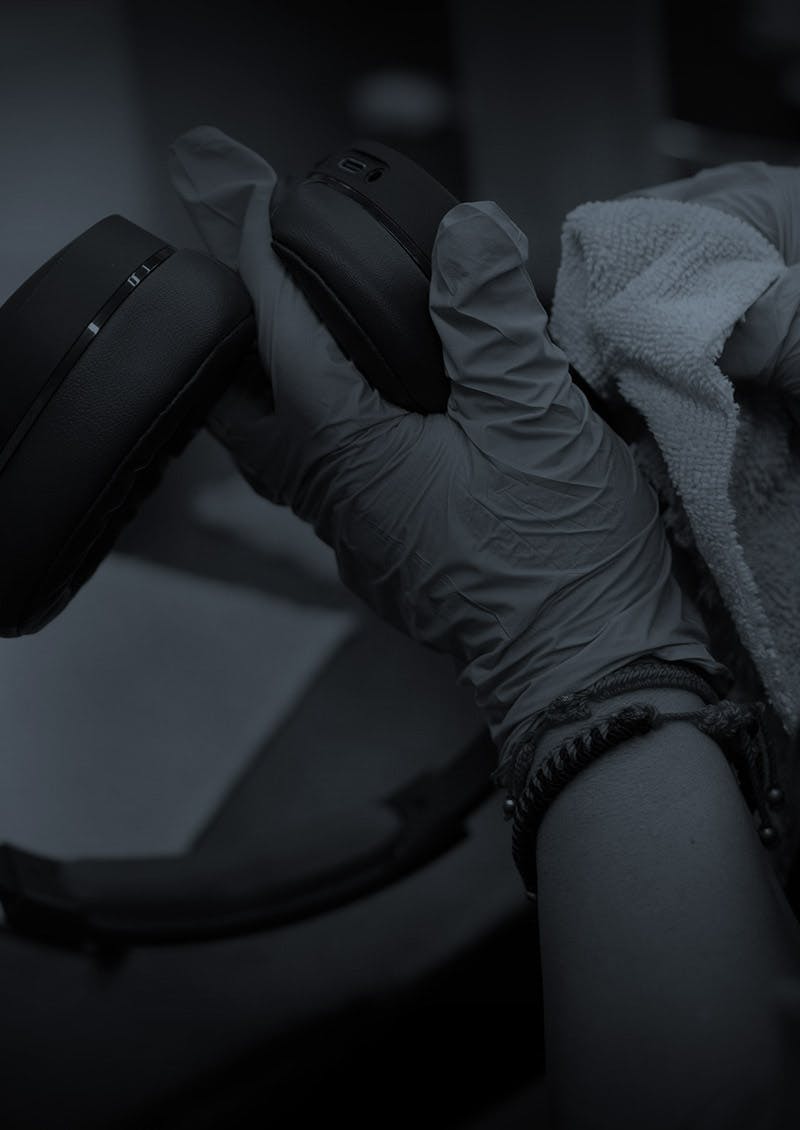 Fighting climate
change 1,000,000
pounds at a time.
We like to think our products never die. OK, maybe they do — but they should never, ever be buried in a landfill. So, we've partnered with facilities around the globe to recycle and upcycle Skullcandy products for resale. Our goal is to keep 1,000,000 pounds of waste from entering landfills by the end of 2025. Sound like a lot? It is, but we're already well on our way.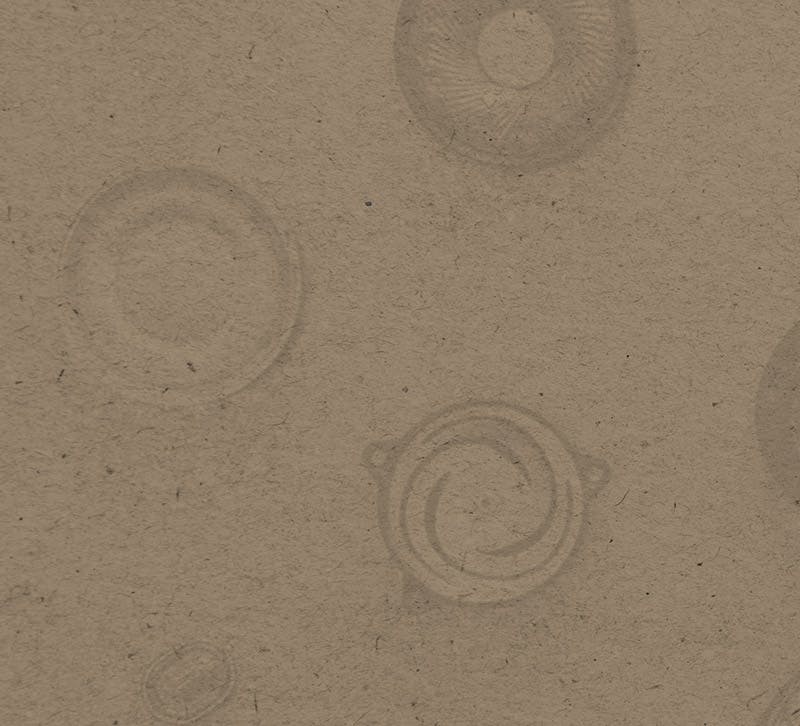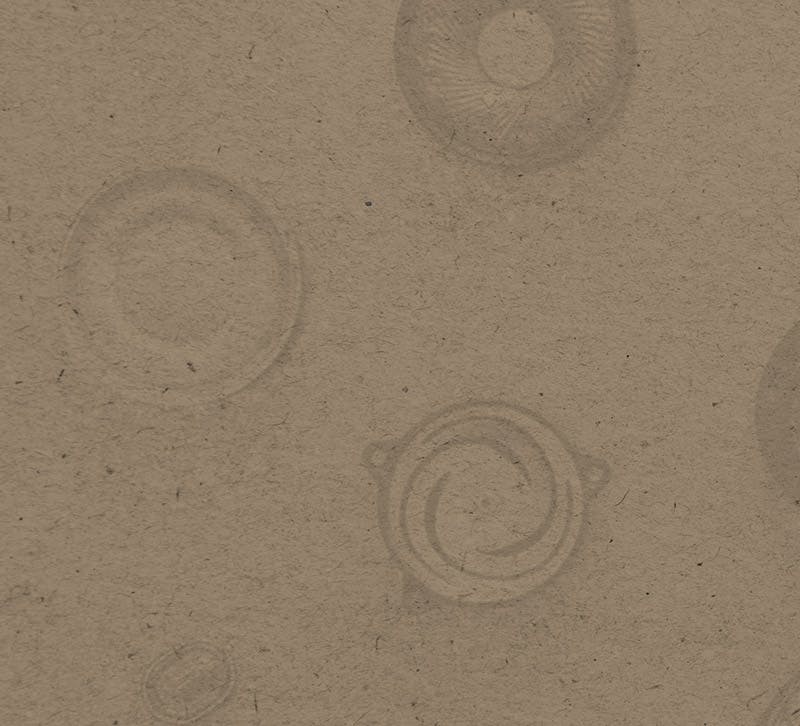 How upcycling works.
Once a Skullcandy product arrives at our recycling facility, it's officially on its RePlay journey. It will undergo a thorough inspection to determine whether it can be upcycled or if it needs to be broken down and properly recycled. If possible, it will be refurbished and resold, with a portion of the proceeds going to our friends at Protect Our Winters. Follow along to see how our upcycling program works and what it takes to keep our products out of landfills.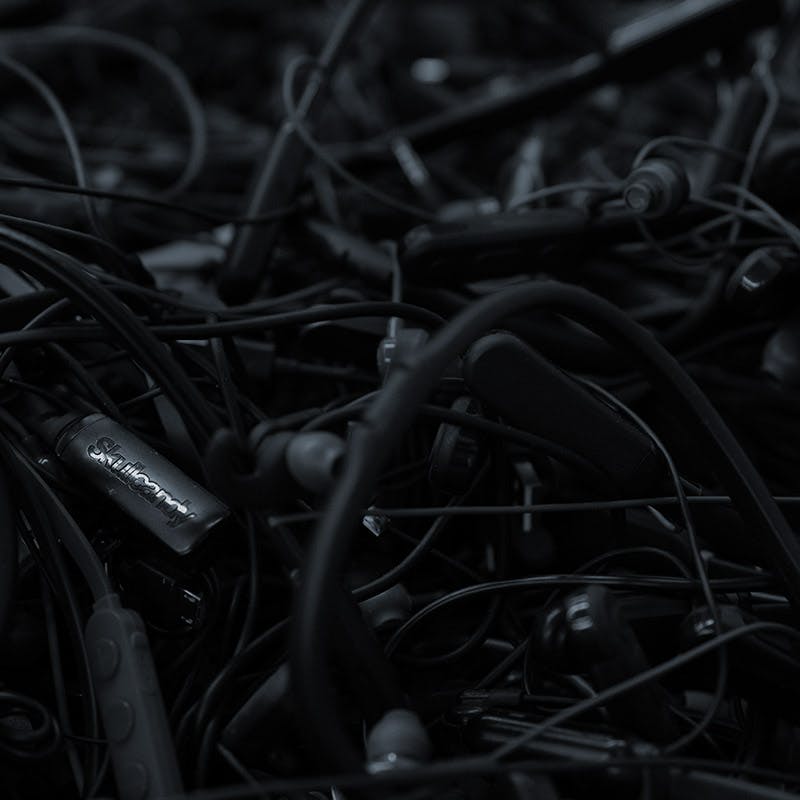 units diverted from landfills.
That's since the program began in July, 2019. We're proud of this growing number and we're just getting started.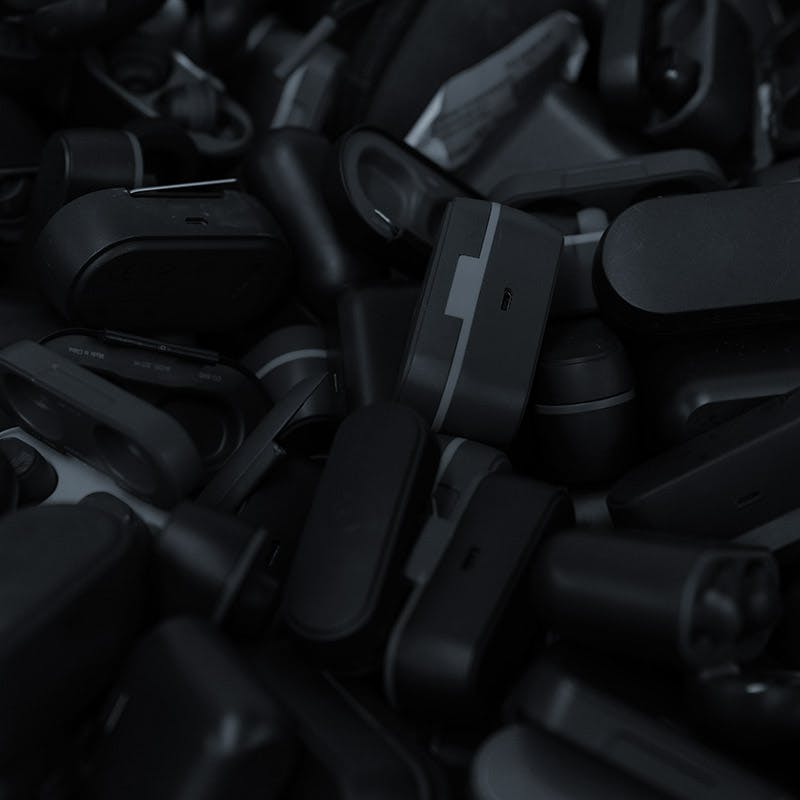 pounds of material returned to circulation.
That's a ton of audio products. 272 tons, actually — that would have wound up in landfills around the world.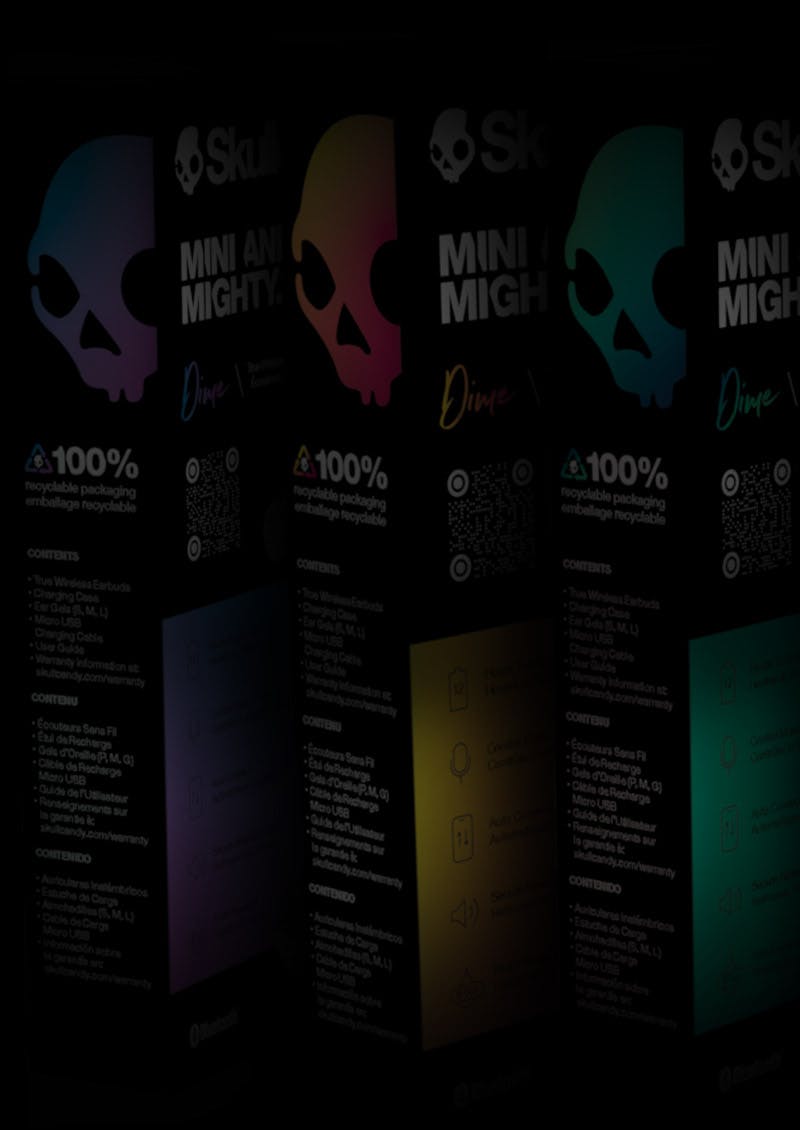 Thinking outside
the box.
In 2018, containers and packaging amounted to approximately 82 million tons of consumer waste worldwide. We're committed to becoming part of the solution by reducing the amount of material used in our packaging and converting to 100% recyclable materials.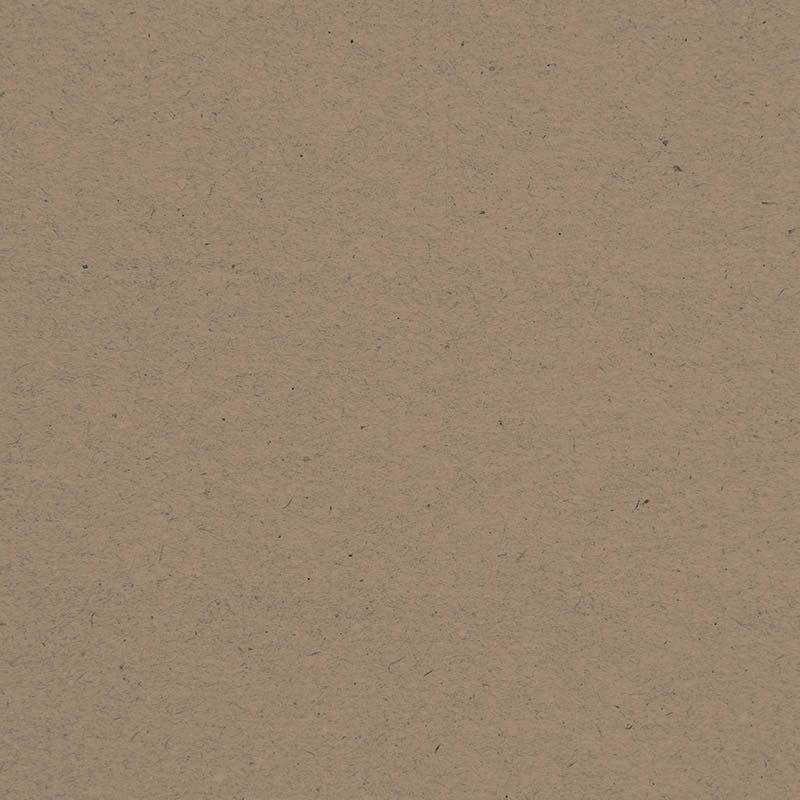 100% recyclable packaging
Do you ever get tired of digging through the fine print on a package to determine whether it's recyclable? Our goal is to make it easy — all of our packaging is 100% recyclable.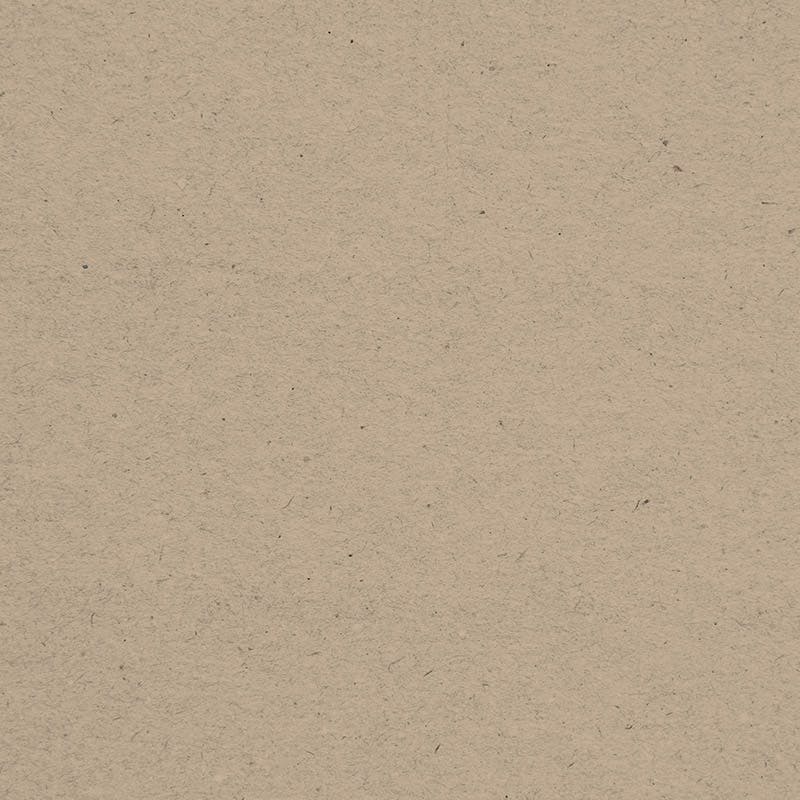 Less material = less waste
By reducing the size of our packaging, we reduce the amount of material to be recycled. We can also ship more units per container, and fewer containers mean less pollution as our items are shipped around the world. Responsible Packaging Movement
We're proud to join prAna's Responsible Packaging Movement with dozens of like-minded brands that are dedicated to eliminating harmful, outdated materials and replacing them with lower impact options.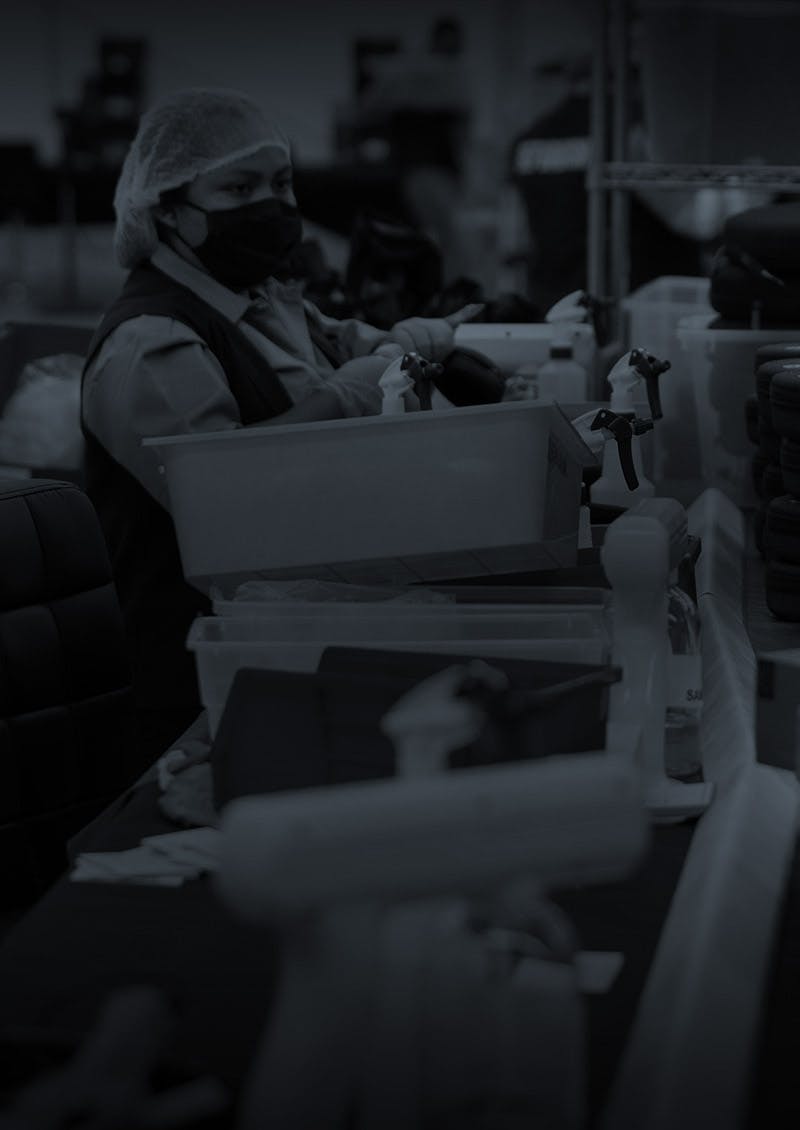 LEAN and green
manufacturing.
The implementation of LEAN processes has increased our manufacturing efficiency dramatically. This increase in efficiency comes with a reduction in the amount of energy we use and the amount of waste we produce. LEAN processes have also increased our transportation efficiency, which reduces the amount of fuel we consume and the amount of air pollution we produce.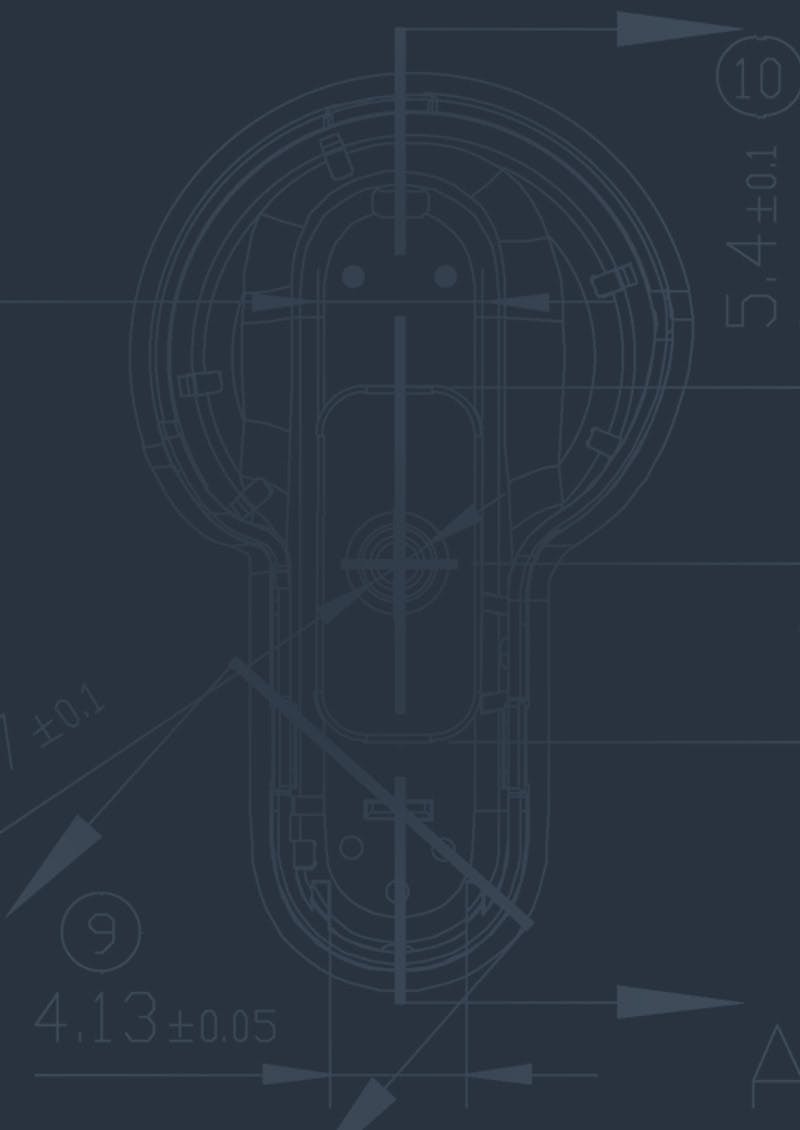 Measuring, evaluating
and improving.
With the help of EcoChain®, we measure and assess the ecological impact of our processes and individual products. One area we recognized an opportunity for improvement was our earbud batteries. Starting with Dime® earbuds, we're using smaller, more efficient batteries. As a result, Dime's carbon footprint is less than half that of other true wireless earbuds.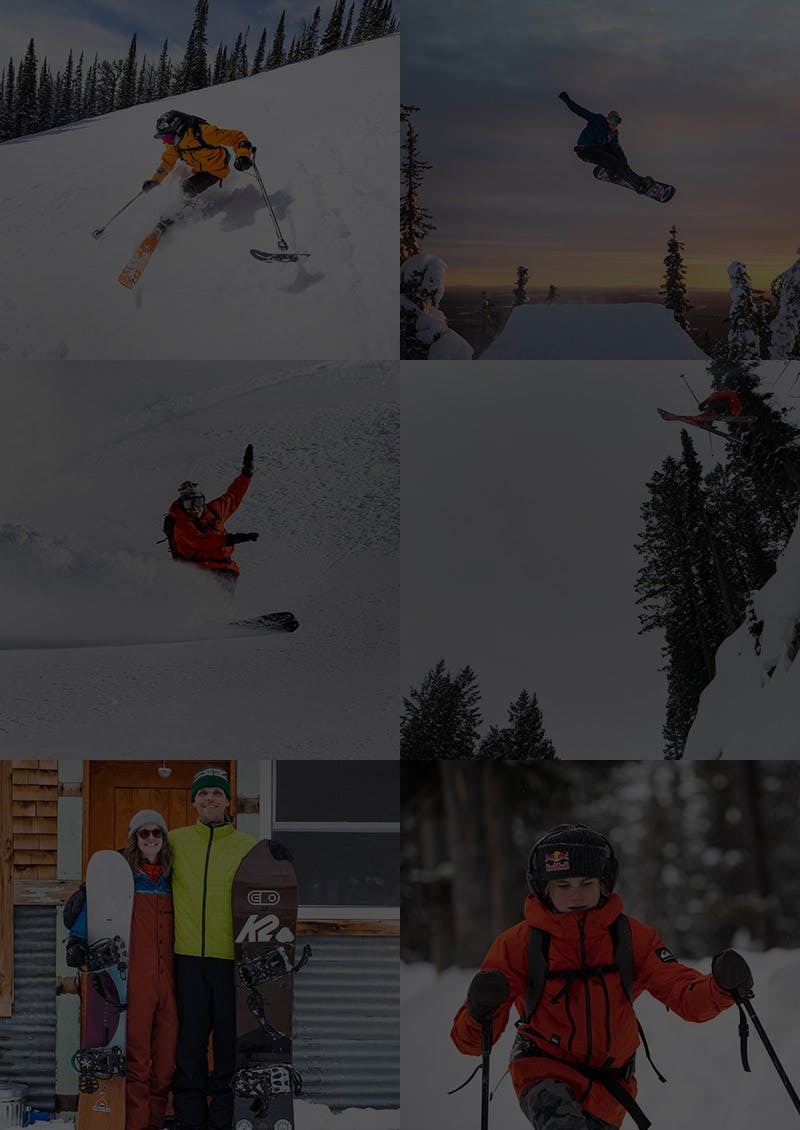 Taking real steps to
fight climate change.
We partner with a roster of outdoor advocates and organizations like Protect Our Winters who use their voices to make real, measurable progress. We are proud to have joined POW to lobby senators and other state representatives to take action on climate change, and we will continue to make our voices heard to bring the fight to lawmakers on Capitol Hill.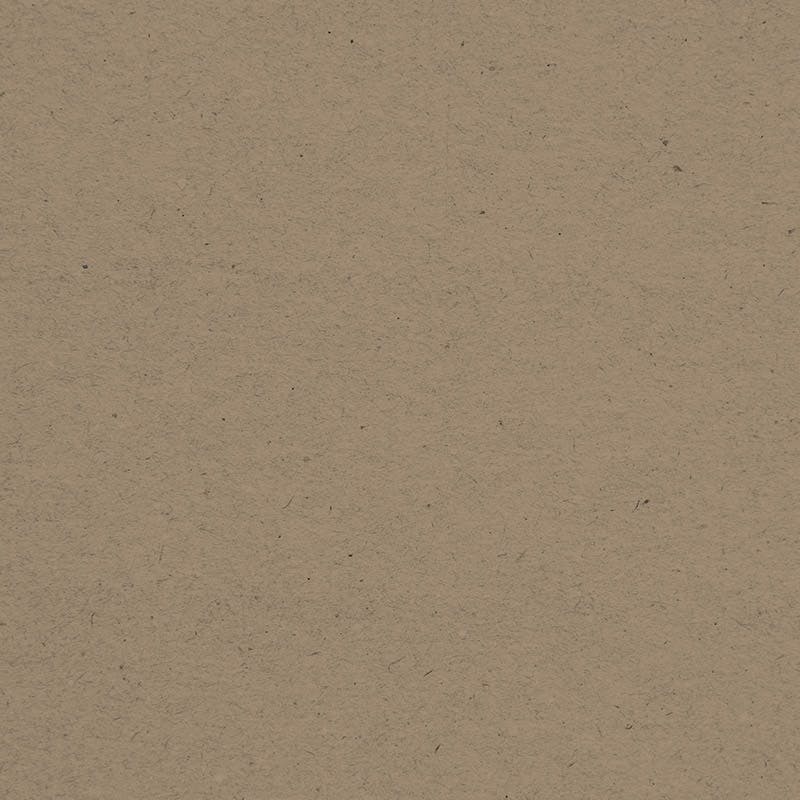 The BIG Sustainability
Award.
We are honored to be recognized by the Business Intelligence Group with its 2021 Sustainability Leadership Award for efforts to reduce our impact on the environment.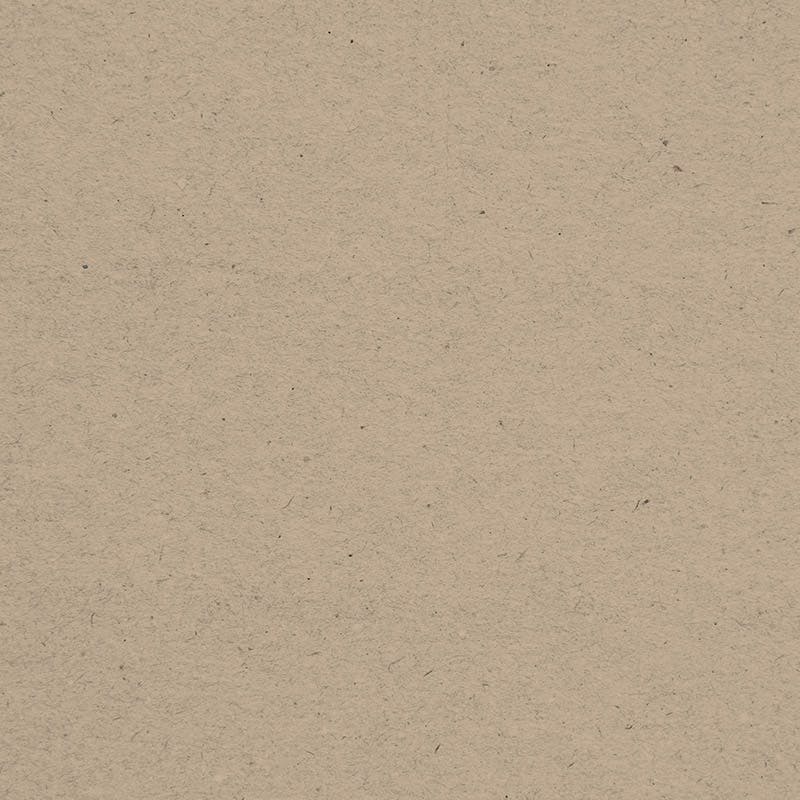 Best Buy Canada Innovation
Award.
We helped Best Buy pilot its sustainability initiative, which gives defect-free Skullcandy returns a refurbished certification so they can re-enter the marketplace.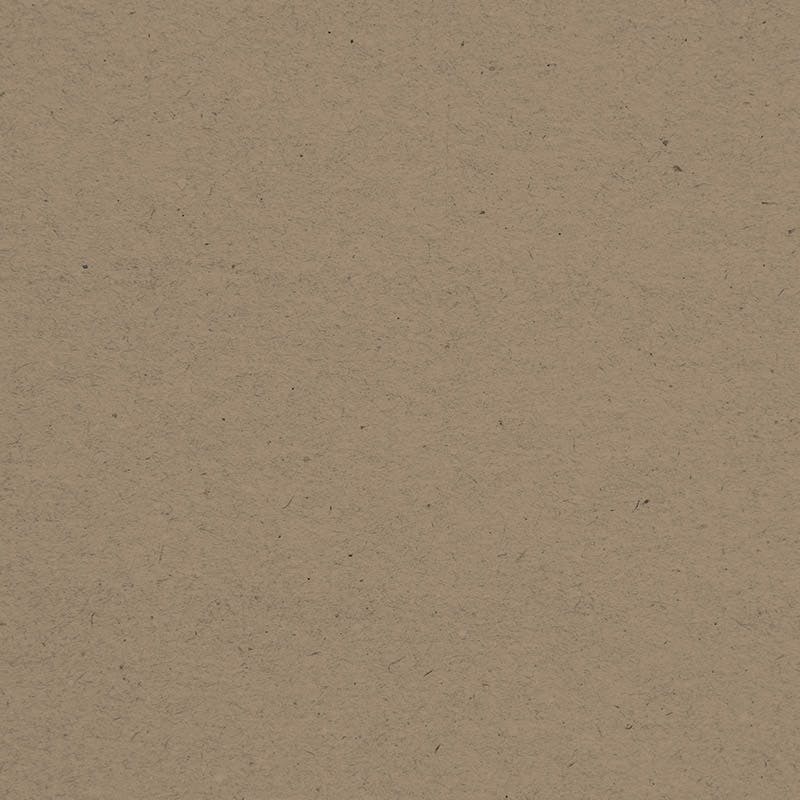 Utah Green Business
Award.
Skullcandy was named a Utah Business 2021 Green Business Award winner in the Waste & Recycling category in recognition of our efforts to promote sustainability.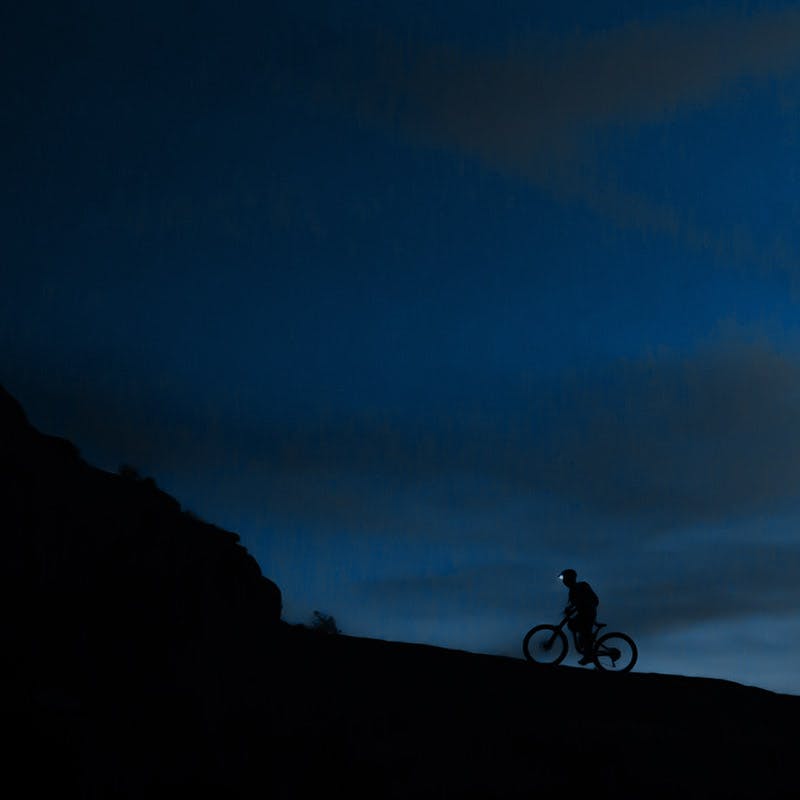 How you can help.
We consider it part of our responsibility to our customers and our planet to stay committed to fighting climate change and creating opportunities to mitigate the impact. Invest in zero emissions
By selecting Carbon Checkout™ in your Skullcandy cart, you're making a small contribution to renewable energy projects that reduce global carbon emissions. Recycle your packaging
All Skullcandy packaging is made from 100% recyclable materials, so after you buy one of our products you can simply drop the box into a recycle bin. Give audio a 2nd chance
Done with your earbuds or headphones? Don't throw them away! Return them to Skullcandy and give them the chance to live their best recycled lives. Join the fight
POW makes it easy to create meaningful, positive change. Visit Protectourwinters.org to find a campaign that resonates with you and make a donation or volunteer.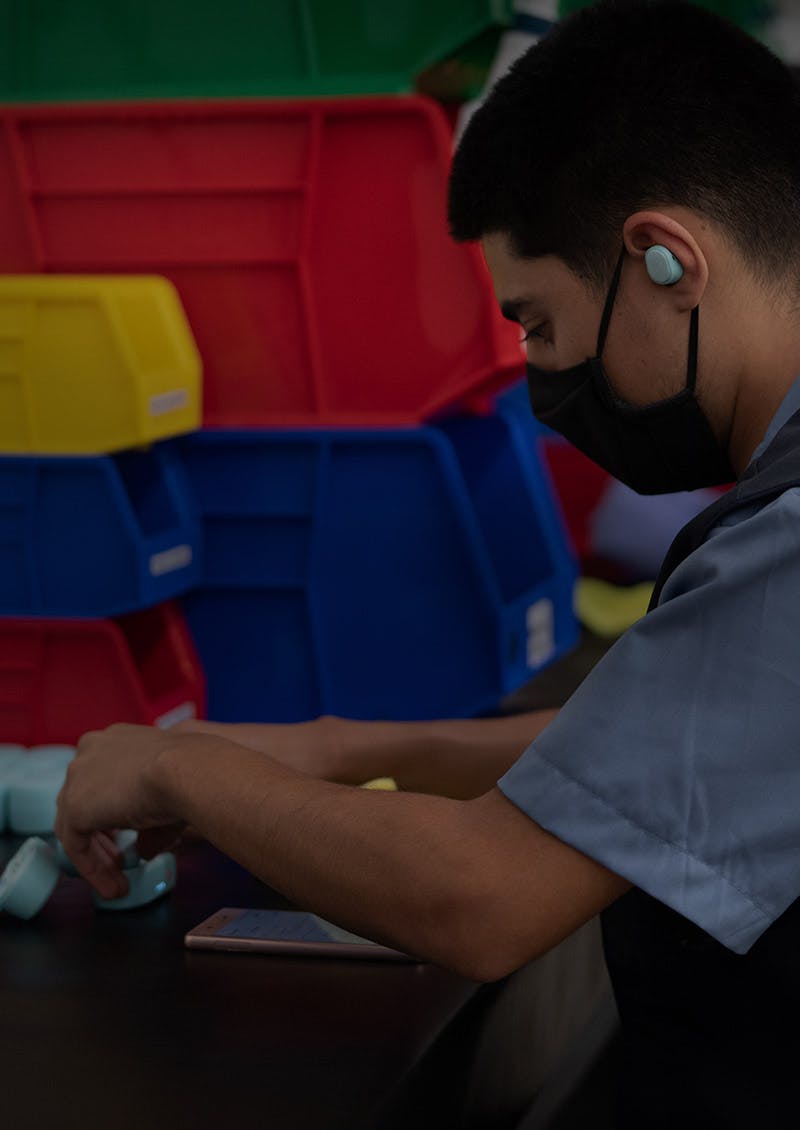 Got any fresh,
green ideas?
We're always open to suggestions. Do you know how we can make Skullcandy greener? Drop us an email at gogreen@skullcandy.com.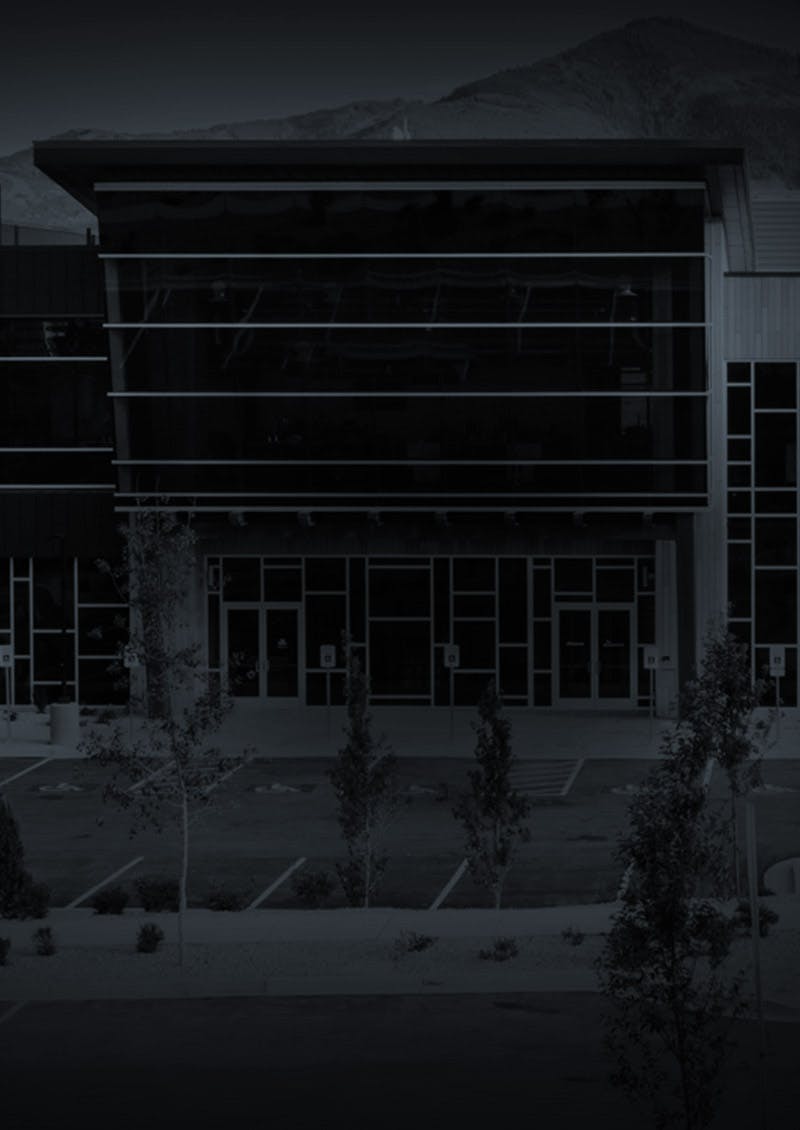 And we're just
getting started.
Sure, we're proud of the progress we've made, but there's always more that can be done to minimize our carbon footprint. We're committed to proactively finding ways to make Skullcandy products and processes greener so our mountains can have a brighter future.